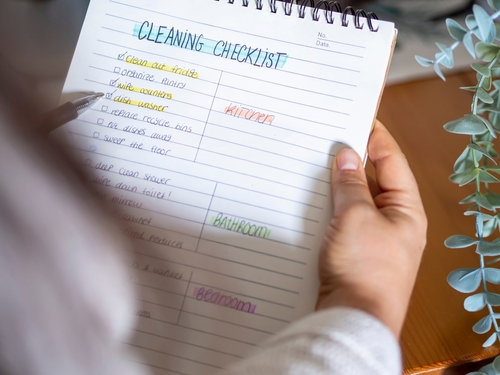 Are you moving into a new home? Whether it's your first time or you've done this before, it's always important to thoroughly tidy up your new home before moving in. This will help get rid of any dust, dirt, and pathogens that may have accumulated in the meantime or been left by previous owners.
And while most people in Mason, OH, prefer to outsource this task to professional move-in cleaning services, it's still worth your while to learn how to do it on your own. That's why we have prepared a comprehensive move-in cleaning checklist you can use. Read on!
What do you clean when you first move in?
When you first move into a new home, there are a lot of things that need to be done in order to get it ready for you and your loved ones. One of the most important tasks is cleaning everything from top to bottom using safe and eco-friendly cleaning supplies.
This can seem like a daunting task, especially if you also need to perform a move out cleaning on your old home, but it's important to get it done so that you can start enjoying your new home. Following a checklist is a great way to do it properly and as efficiently as possible for your peace of mind.
Here's an effective move-in cleaning checklist:
1. Mop the floors
This is the first thing you should clean when you move in. Make sure to sweep and mop all floors, reaching all the corners and surfaces. Consider also using a carpet cleaner on the carpets, especially if they are heavily stained.
2. Clean the kitchen and bathrooms
The next thing you should clean is the kitchen and bathrooms. Take the time to scrub all surfaces, and don't forget to clean out cabinets and drawers. If there are any appliances in the kitchen, be sure to clean them as well.
3. Dust all surfaces and furniture
Remove dust from all surfaces, including furniture, window sills, and ceilings. Use a duster or a dry cloth to do this. Check the corners of your rooms for cobwebs and remove them if you find any.
4. Wipe all windows
Wipe windows using a cloth and a glass-cleaning solution. Get into every nook and cranny. Be sure to wipe them down with a dry cloth afterwards to remove any excess moisture.
5. Inspect the ceilings, walls, and floors for any damage
You should tell your landlord or property manager about any damage you see in your new apartment. This way, they can prevent any bigger problems from happening in the future, and you can keep yourself from being blamed for the damages left by previous residents.
6. Air out the house 
One easy way to help air out the house during your move-in cleaning is by opening windows and doors. This will allow fresh air to circulate throughout the home and can help remove any unwanted smells or particles.
7. Dispose of any trash or clutter that was left behind during the move
When you're done with all of your moving tasks, make sure to remove any trash or clutter left behind. This may include empty boxes, packing materials, and old newspapers. Be sure to dispose of them in the proper manner.
8. Celebrate your new clean home!
After completing your move-in cleaning checklist, celebrate your new clean home. Invite some friends over for a housewarming party, or just relax and enjoy your new space. Congratulations on making your new home feel like your own.
How do I find a good move-in cleaning service in Mason, Ohio?
If you need help cleaning your new home, My Maid Service Cincinnati offers move-in and move-out cleaning services. We will clean your new place and get it ready for you to move in. We understand how stressful moving can be, so let us take some of the burden off of your shoulders. 
You can have a great time at the Lindner Family Tennis Center while our team of experienced professionals work diligently to clean every nook and cranny in your new home. We want you to feel comfortable and at ease when you finally move in. So, let us take care of everything for you. Contact us today to schedule a free consultation.