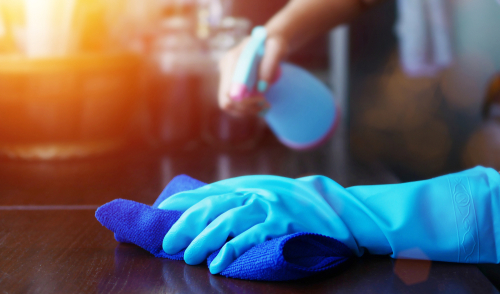 Having the right housekeeping supplies is crucial because it can greatly impact the effectiveness and efficiency of housekeeping tasks. In addition to helping remove dirt, grime, and bacteria effectively, it can help reduce the amount of time and effort required to clean a surface or object, as well as yield superior results overall.
For instance, using a cleaner specifically designed for glass surfaces can help to effectively remove streaks and smudges, while also protecting the glass from scratches and damage. On the other hand, using the wrong cleaning product, such as a harsh cleaner on a delicate surface, can cause damage and make the task more difficult.
In the following article, the leading cleaning service experts in Loveland, OH, have provided their list of top 10 handiest housekeeping tools every home should have. Keep reading to learn what these are!
What are some useful housekeeping tools?
If the long history of cleaning has shown us anything, it's that keeping your place hygienic and organized requires the right tools and supplies. Here are the 10 most useful supplies that can make these chores easier and more efficient:
Microfiber cloths: Microfiber cloths are effective for picking up dirt and debris, as well as for wiping down surfaces. They are also reusable, making them a more environmentally-friendly option.
Vacuum cleaner: A vacuum cleaner is essential for removing dirt and debris from floor surfaces, as well as for removing pet hair and dander.
All-purpose cleaner: An all-purpose cleaner can be used on a variety of surfaces, including countertops, cabinets, and appliances, to remove dirt and grime.
Glass cleaner: A glass cleaner can be used to effectively remove streaks and smudges from windows and mirrors, leaving them sparkling clean.
Disinfectant: A disinfectant cleaner can help to kill germs and bacteria on surfaces, making it especially useful in bathrooms, kitchens, and other high-traffic areas.
Scrub brush: A scrub brush can be used to remove dirt and grime from tile, grout, and other surfaces that require more scrubbing power.
Broom and dustpan: A broom and dustpan are essential for sweeping up dirt and debris from floor surfaces, making cleaning tasks faster and easier.
Sponge: A sponge can be used for a variety of cleaning tasks, including wiping down surfaces, scrubbing tough stains, and removing grime from dishes.
Paper towels: Paper towels are a disposable option for wiping up spills, cleaning surfaces, and polishing objects.
Trash bags: Trash bags are essential for disposing of waste and keeping your home or workplace safe and organized.
By having these 10 supplies on hand, you can tackle a variety of household tasks quickly and effectively. Consider keeping them stored in a convenient location, such as a specialized caddy, to make going about your chores even more efficient.
Remember to also choose environmentally-friendly options, such as reusable cloths and green solutions, to reduce your impact on the planet and keep yourself, your family, and your pets as safe as possible. If you have the time, you can even make your own DIY products!
Who provides a top-of-the-line cleaning service in Loveland, OH & beyond?
If you're in need of a reputable housekeeping company that can help you keep your living space in Loveland and the nearby communities sparkling clean all year long, don't hesitate to reach out to My Maid Service Cincinnati.
We take great pride in the quality of the work we do. This commitment to upholding the highest industry standards has enabled us to build a long list of happy and loyal customers. Get in touch with us today and discover for yourself why we're one of the most sought-after cleaning companies in the region!