Relocating to a new home marks an exciting chapter full of fresh beginnings. However, transforming that space into a comfortable dwelling requires overcoming a common challenge – in-depth cleaning. In Lebanon, OH, many people will search for "move-in cleaning near me" and enlist the help of professionals for this task.
For those opting to navigate this journey independently, it's important to realize the process extends beyond mere tidying up. It involves identifying potential pitfalls and crafting strategic solutions to avoid them. This article provides an in-depth look at frequent missteps made during the process of move-in cleaning, equipping you with invaluable knowledge to ensure a seamless transition into your new home.
What are the common mistakes performed during move-in cleaning?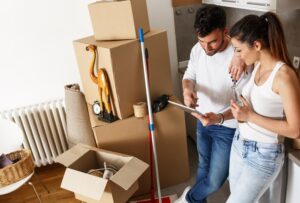 When embarking on a fresh start in a new residence, it is essential to thoroughly clean your new living space to guarantee comfort and safety. Unfortunately, many people make common mistakes during this initial process, which can lead to long-term issues. 
By understanding these mistakes, you can be better prepared to avoid them and ensure a smoother transition into your new home. To help you recognize and avoid them, let's delve into some of the most frequent missteps made during this preparation.
1. Overlooking certain areas
One common error is neglecting less noticeable areas. These may include ceiling corners, underneath appliances, inside drawers, or along baseboards. Dust and grime often collect in these hidden spots, and failing to attend to them can lead to a less-than-pristine environment.
2. Using incorrect equipment
Often, individuals make the mistake of employing inappropriate tools or products for their housekeeping endeavors. It's not a one-size-fits-all situation. Certain surfaces require specific tools and solutions for optimal maintenance. For instance, natural stone countertops demand non-acidic solutions to prevent damage.
3. Ignoring the exterior
Just as essential as the interior, the outside area of your new dwelling often goes unnoticed during initial tidying efforts. Clearing debris, power-washing surfaces, and neatening the yard can immensely boost the overall appeal and comfort of your residence.
4. Skipping safety measures
Health and safety should be a priority in every residence. Unfortunately, many people neglect to incorporate simple safety measures in their sprucing-up routines. Checking smoke and carbon monoxide detectors, as well as fire extinguishers, and ensuring the house is mold and asbestos-free are all essential steps that should not be skipped.
5. Focusing on the looks only
A common error is focusing more on the appearance of the living space rather than hygiene. While a well-decorated space is inviting, it's more critical to ensure a hygienic environment. Proper sanitation and disinfection, especially in high-touch areas like the kitchen and bathrooms, are paramount.
6. Inadequate planning
A well-structured plan can save time and effort, yet, people frequently disregard this step. It's crucial to approach the task systematically, room by room, instead of randomly, to avoid redundancy and to ensure every spot gets attention.
7. Neglecting maintenance
Lastly, once the initial cleaning is done, people often forget about the maintenance part. Regular upkeep is necessary to keep your living space impeccable in the future.
Who in Lebanon, OH, can offer a professional move-out cleaning near me?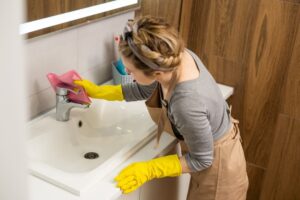 Securing a reliable company to help you with move-out cleaning, as well as with move-in cleaning once you relocate, is vitally important. Luckily, My Maid Service Cincinnati is there to help. Whether it's sanitizing bathrooms in your previous residence or sprucing up every corner of your new dwelling, we have the expertise to get it done.
Our highly skilled team is trained to pay attention to every detail, ensuring nothing is overlooked. Whether you need us close to Lebanon High School or anywhere else in the city, we're here to offer our exceptional services. Don't carry the burden alone; let us take care of the hard work, making your relocation experience seamless and stress-free!