If you are moving out of a property, you may be feeling overwhelmed with all of the tasks you need to complete before leaving. One of the most important tasks is tidying up the property you're leaving, and this includes cleaning every nook and cranny, including the fridge.
With little time and energy to spare, many people choose to hire a move-out cleaning service in Loveland, OH, to help them. Still, it may be useful to know some tips and tricks on how to clean the fridge before you move out and ensure that the space is left in pristine condition. We've gathered some of them ahead.
Do you have to clean the fridge when you move out?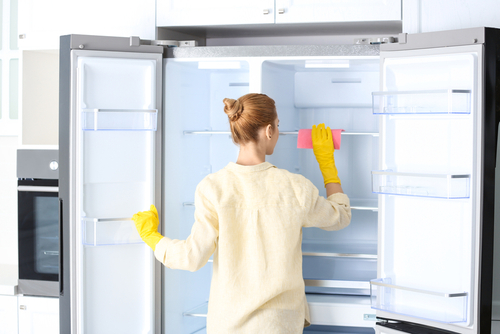 You may already be thinking about what awaits you in your new home, all the things you'll have to clean when you move in, and how to fit the move-in cleaning into your busy schedule. However, moving out of the property also includes at least some amount of tidying up.
When moving out of a rental property, it's expected that you'll clean the fridge along with the rest of the property. Specific requirements may vary depending on the rental agreement and landlord expectations.
Nonetheless, it's always a good idea to leave the fridge in good condition as a courtesy to the next tenant or owner and to avoid deductions from the security deposit. Leaving any part of the space dirty may require professional cleaners, which can be costly.
How do you clean a refrigerator when moving out?
Leaving the property in a presentable condition when you change addresses is crucial. By doing so, you ensure that you receive your security deposit back and leave the space in good condition for the next tenant.
Sprucing up a refrigerator is an important step in this process and one that shouldn't be overlooked. We have some advice to help you efficiently deal with this task, whether you're doing the move-out cleaning with children or if you're just busy.
Empty the refrigerator
Before you begin cleaning, you need to remove all items from the fridge. This includes food, drinks, shelves, and drawers. If you are moving to a new place, you can pack the food in a cooler or a box with ice packs. If you are disposing of any food, make sure to do so in a responsible and environmentally friendly way.
Remove the shelves and drawers
Next, remove the shelves and drawers. If they are detachable, take them out and wash them separately. If they are not removable, clean them in place using a cleaning solution.
Clean the interior
Using a chemical solution or a mixture of warm water and mild detergent, wipe the interior of the fridge. Make sure to get into all the corners and crevices, and wipe down any spills or stains. You can use a sponge, a rag, or a paper towel for this step.
Clean the exterior
After handling the interior, move on to the exterior of the fridge. Use the same mixture to wipe down the doors, handles, and any other surfaces. Pay attention to any fingerprints, smudges, or stains, and make sure to scrub them thoroughly.
Reassemble
Once you have finished, reassemble the fridge by putting back the shelves and drawers. Make sure they are clean and dry before putting them back in place. You can also leave the door open for a few minutes to allow any moisture to evaporate.
Final touches
Finally, do a quick check to make sure that it is neat and ready for the next tenant or owner. Check if there are any lingering odors that need to be additionally dealt with, and wipe down the exterior with a dry cloth to remove any excess moisture.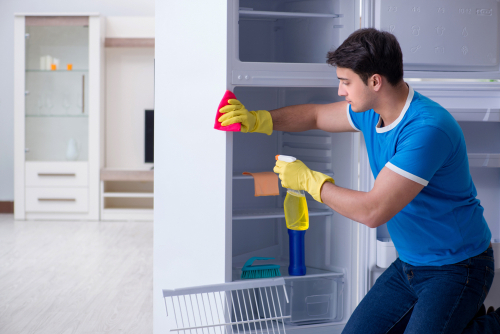 What is the best move-out cleaning service Loveland, OH, can offer?
If you're moving into a new home and need help with move-in or move-out cleaning, My Maid Service Cincinnati is there to help. Our team of experienced professionals understands the stress of moving and is ready to alleviate some of that burden, whether you're located near Historic Downtown or anywhere else in Loveland, OH.
We take pride in our attention to detail and will work tirelessly to clean every nook and cranny in your house. Let us take care of everything for you, so that you can focus on the process of moving without any cleaning-related worries. Don't hesitate and contact us today!