Moving out of a property can be a hectic and stressful time, especially when you have children. Cleaning the house for move-out can be even more challenging with little ones around. This is why many residents of Loveland, OH, will ask a move-out cleaning service for help.
However, it's also possible to handle this task by yourself, with careful planning and organization. Ahead, we will provide you with tips and strategies for move-out cleaning with children which are guaranteed to make the process easier.
Is it possible to do move-out cleaning with kids?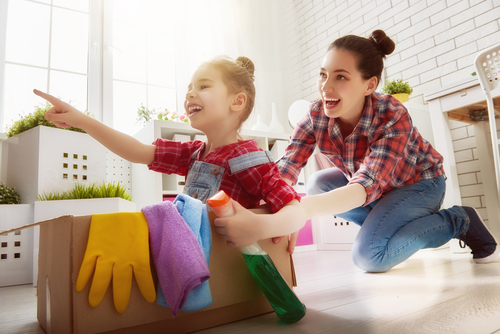 In short, yes, it is possible to do move-out cleaning with kids. While it may be more challenging to tidy up a property with children around, it can be done with some planning and patience. If your children are younger, it's a good idea to plan around their schedules and see that you can easily supervise them even while you do all the chores.
Older children, however, can help with the chores. This can even be turned into a learning opportunity, teaching kids about products and techniques. Or it can even be a family activity that teaches responsibility and teamwork. Overall, while it may require more effort, it's possible and can be a positive experience for everyone involved.
How do you clean a house for moving out when you have kids?
As mentioned, home maintenance in a house with children, especially if they're very young, can be a lot of work. Children may get in the way, need attention, and you may need additional planning and coordination so as not to create an environment that's unsafe for them.
The guide ahead is there to help you handle the whole process easier, even if you have kids that'll be there as it happens.
1. Plan ahead
Before you start, create a plan or checklist to help you stay organized and on track. This is going to make every step of the moving process easier, not just this one. It'll also make it easier to track all the things you should clean immediately after moving in, especially if you have to handle the move-in cleaning as a busy homeowner.
2. Set realistic expectations
Tidying up and preparing a house with kids for moving out can take longer than expected, so set realistic expectations for the whole process. Consider breaking the tasks into smaller chunks and spreading them out over a few days.
3. Get the kids involved
Depending on their age, your children can help with maintenance chores too. This doesn't mean they have to handle hard tasks themselves, such as scrubbing the bathroom or cleaning the fridge before you move out. Give them age-appropriate tasks and make the chores fun by playing music or having a playful competition.
4. Provide a fun play area
Younger children may require more supervision, so provide them with a safe play area where they can play while you're scrubbing and mopping. You can set up a playpen or play area with toys and books.
5. Use only safe products
When doing any kind of housework with kids around, it's important to use safe and non-toxic products. Avoid harsh chemicals that could harm your children, and consider using greener cleaning solutions.
6. Take breaks and be patient
Cleaning a house for moving out with kids can be challenging, so take breaks and be patient. Be prepared for interruptions and don't get too stressed out if things don't go as planned.
7. Reward your kids
A reward is a great incentive for kids to help with any chores and have something to look forward to after you're all done. A small gift, extra screen time, or going on a family picnic at Nisbet Park are all great examples of an award that kids will appreciate and love.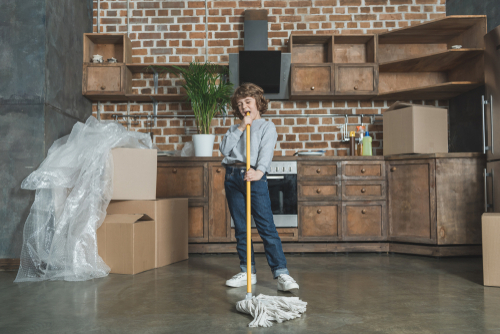 Where in Loveland, OH, can I find a reputable move-out cleaning service?
Are you tired of the hassle and stress of moving, and does even the thought of cleaning make you exhausted? Then let the professionals from My Maid Service Cincinnati take care of the dirty work for you.
Our team of experienced maids will ensure that your house in Loveland, OH, is left  in pristine condition, allowing you to focus on the more important aspects of moving. We offer a variety of customizable packages to fit your specific needs and budget. Contact us today to schedule your move-out cleaning service and enjoy a stress-free move!