Home upkeep can be a hassle – we get it. While a hectic daily routine can make it hard to prioritize what needs to be done, an untidy home can also trigger severe respiratory problems, allergies, and skin infections – just to name a few. 
However, if you're one of many Mason's residents who live busy lives and don't have the time to manage their home, calling in a professional house cleaning can be a great solution. However, keep on reading if you're interested in all the reasons why tackling your house should be your top priority.
What are the benefits of living in a clean house?
Being able to maintain a well-kept home goes beyond just keeping it tidy; it also comes with numerous physical and mental benefits, including:
1. Better organization 
Although losing and misplacing things is inevitable at times, tidying up can help you prevent it. This is because keeping up with your daily household chores makes you more organized over time. Just think about how having everything in its proper place improves your home's comfort and cleanliness with minimal effort.
2. Pests & germs kept at bay
Common kitchen surfaces attract parasites and germs that feed on food particles, spills, and other food sources. Regular upkeep will decrease the chances of spreading pathogens like E. coli, salmonella, yeast, mold, etc., as opposed to neglected houses, where they easily thrive. 
3. Enhanced quality of sleep
The ideal sleeping environment requires a well-organized home. Decluttered rooms, crisp bedding, and good indoor air quality are all factors contributing to good sleep. On the other hand, excessive clutter raises your cortisol levels, hindering your sleep no matter how tired you are.
Additionally, sleep deprivation can lead to fatigue and exhaustion, resulting in little motivation to do household chores. 
4. A healthier lifestyle
Nowadays, the number of illnesses and emotional distress is higher than ever before. Despite the fact that you can't completely protect those you love from health issues, there are precautions you can take to ensure the wellbeing of those you love.
Considering the amount of dust, microbes, and contaminants that accumulate in one's living space, maintaining a pristine living environment plays a crucial role in one's health.     
5. Reduced allergies
If you for some reason fail to clean regularly, allergens such as dust and pollen on your clothes and mold on the bottoms of your shoes can build up over time. Plus, if you share your home with pets, too, keep in mind that pet dander and other pollutants make your home a breeding ground for allergies. It's therefore absolutely essential that you and your family take care of your household at all times.
Can a messy house affect your mood?
Even though it may seem insignificant, knowing how to keep your place immaculate can have a profound effect on your mental health. A number of studies have found that living in a neglected, and poorly ventilated space increases the risk of stress and depression.
Also, clutter can be extremely distracting. There's a limit to how much our brain can focus on at once. So, don't be surprised if you find that clutter actually impairs your ability to think clearly when you work from home.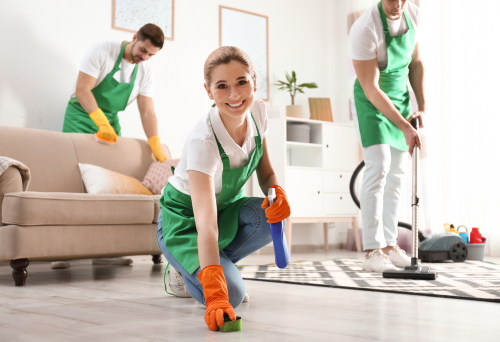 Where in Mason and surrounding areas can I book dependable house cleaning? 
No matter if you're a mom on a tight schedule looking for cleaning tips or you're simply swamped by your daily routine and you're in need of advanced assistance, look no further. Thanks to years of experience in the field, My Maid Service Cincinnati has the knowledge and the skills to deliver a range of specialized housekeeping services.
Whether you're located near Meadows Park or elsewhere in the area, you can rely on our experienced professionals, who have undergone a stringent vetting process and received extensive training. Reach out to us and make an appointment today!