There are few things more exciting than starting a new chapter in your life. However, that excitement can quickly turn into frustration if previous tenants did not leave the house up to your standards. Unless you want to deal with unsightly stains and previous odors once you finally settle in, it's vital to take every measure possible to bring the sparkle back before moving in. 
But, how do you do a move in clean-up and is there a way to know if your future place in Cincinnati is tidy enough? Luckily, there are plenty of ways to make sure you new home is ready for you and your family. However, don't be surprised if you find yourself looking for an expert to help you out with move in cleaning because you're already exhausted from all the packing and unpacking.
Either way, if you want to learn how to go through the moving process hassle-free, keep on reading!
How clean should an apartment be before moving in?
Giving your new abode a good scrub might appear challenging at times when there are already enough duties on your moving list. Although it can be both physically and mentally debilitating, bare walls and empty space are a one-of-a-kind opportunity to get rid of any dirt and grime lurking about.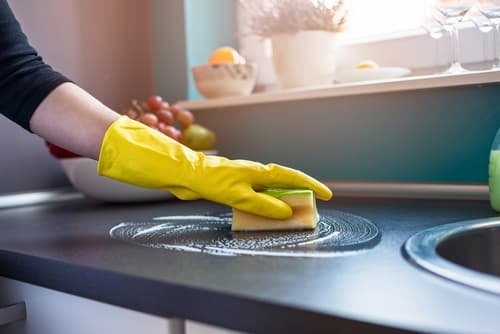 Whether you're renting or moving into a newly constructed home, it's generally advisable to perform a thorough clean before you bring in your belongings. So, if you're on the mission to start with a clean slate, there's a step you should never miss: creating a pristine and hygienic living environment before settling in. 
Otherwise, you and your loved ones may face the following health problems:
1. Cluttered spaces are the main contributors to allergies and airborne diseases like asthma. In light of that, messy homes and poor indoor air quality can have severe effects on your health, from the itchy throat and mild sneezing to serious respiratory illnesses.
2. If not sanitized properly, any traces of bacteria, germs, and other pathogens can cause flu and colds. For this reason, make sure to sanitize all touchpoint surfaces once you enter your new place (e.g. doorknobs, handles, lights switches, faucets, kitchen and bathroom surfaces, tabletops, etc.)
3. Some of the most common symptoms of long-term exposure to hidden mold include cold-like symptoms. However, prolonged mold exposure can even cause poor mental health, constant fatigue, and memory loss.
What does a move in cleaning include?
Relocating from one place to another is a comprehensive process, involving a lot of different tasks. There's a good chance that you'll feel overwhelmed, especially if other moving arrangements need to be made, too. 
Here are some tips to help you head in the right direction and make the move in cleaning process easier:
1.Be sure to dust all surfaces, including ceilings and hard-to-reach areas 
2. Remove spider webs
3. Wipe down baseboards, shelves, and doors
4. Wash windows, window seals, and shutters 
5. Sanitize kitchen sink, counters, and cabinets
6. Give appliances a good scrub, inside and out
7. Disinfect toilet, shower/tub
8. Polish mirror and vanity area
9. Wash the walls
10. Spot-clean carpets
11. Vacuum and mop the floors
What's Cincinnati's best move in cleaning?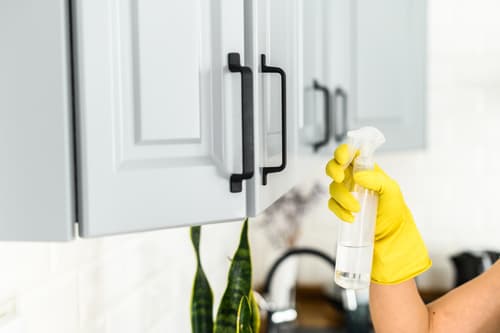 Are you wondering how clean you need to leave your rental? Or perhaps you want to spruce up the new place before you arrive? Whatever your requirements, My Maid Service Cincinnati has just the right solution for you!
Just as you can't underestimate the power of a move out clean, getting your place ready is a necessary part of making yourself at home. With this in mind, our team of experienced and skilled professionals can tackle your place top-to-bottom, so you can focus on more exciting aspects of the move.
Instead of struggling with bathroom dirt and kitchen grime, take a day off at Contemporary Arts Center while we check off the chores from your moving checklist. Give us a call and book the service you need!